My Book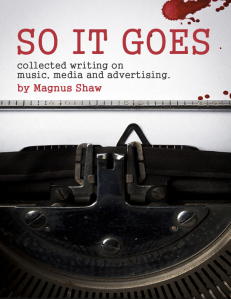 'So It Goes' is a collection of my writing from the last few years. It's in three sections:
– Music
– Media
– Advertising
It compiles my thoughts on a multitude of subjects. It's a reasonably quick read, but should keep you entertained for a few hours.

I sincerely hope you enjoy it.
'So It Goes' is available in several electronic formats, at a very reasonable price.
You can download it to your Kindle here.
If you'd like a copy in another format, then this site should oblige:
I'm also pleased to recommend this tome by my good friend David Radford, (and not just because I designed the cover!)