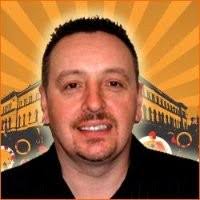 I'm Magnus Shaw (mks:creative is my trading name). I'm also an award-winning digital developer, writer and blogger. I was born in Nottingham to two professional teachers/amateur thespians. Educated in Nottinghamshire, I lived in London for several years and now reside, with my wife, in Derbyshire.
I have three adult step children, four grandchildren, and my mother is the author Bette Paul.
For 25 years, I've worked in the advertising and media industries. From managing the creative output of the UK's largest media independent, to conceiving and writing campaigns for famous brands – even producing the odd radio show. I was very early to spot the potential power of the internet, and helped introduce digital platforms to clients and agencies. It's certainly been a varied career (so far).
I am now a freelance website developer, consultant, and content editor working primarily with SMEs, charities and the voluntary sector. I have also published 'So It Goes', a collection of my articles and columns.
And a few facts:
* I am Dame Judi Dench's godson
* I have witnessed a murder
* I owned a dog which starred in an ASDA ad
* I am upset by the sight of an octopus
* I have visited the Greek islands over twenty times
* I am the last of my family line with the surname 'Shaw'
* I am half Welsh
* I attended the final Stonehenge free festival
* I was once on News At Ten, talking about Top Man suits
* I was once on Sky News talking about the weather
* I always bathe, never shower
* I have met a man who walked on the moon
* I know Pele's real name
* I was a nightclub DJ for eight years
* I went to the same school as fighter ace Albert Ball
* I once spent my birthday at the Grand Canyon
* I have never knowingly been a member of a gym
* I rather like the rain
---
These are the awards I have won…
* Advertising In Education Award 1995
* MEN Campaign of the Year Award 2001
* RBA Best Campaign Award 2003
* RBA Best Item of Self Promotion Award 2003
* RBA Best Campaign Award 2004
* RBA Best Item of Self Promotion Award 2004
* RBA Best Campaign Award 2004
* MEN Best Campaign Award 2005
* MEN Best Advertisement Award 2005
* Global Creative Excellence Awards 2005 (best radio script)
* CIPD Best Internal Communications Award 2005
* SWOT Awards 2007 – best digital campaign
* Best integrated campaign 2009 – nominee